The risks of cath lab radiation exposure and how to reduce them.
Course Details
In this course, you will learn:
The sources and risks of radiation
Strategies to protect the operator and cath lab staff
Assuring patient safety by understanding the risks and by carefully utilizing radiation
---
Method and medium:
Learners participate in the interactive learning modules by correctly answering multiple choice questions dispersed throughout. Learners will be prompted to try again, if a question is answered incorrectly.
The course will open in a new tab – to exit the course, simply close that tab.
---
Estimated time to Complete: 40 minutes
Credit/contact hours: .5
Expiration date: March 7, 2021
Publication date: March 8, 2018
---
User Rating:
5/5
(4)
Rating Details
Course Author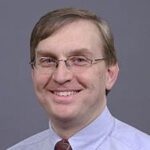 Michael Ragosta III, MD
Professor of Medicine/Cardiology
Dr. Michael Ragosta is an attending cardiologist at the University of Virginia Health System with a sub-specialty in interventional cardiology. 
Learn More

about Michael Ragosta III, MD

.
DISCLOSURE:
This individual reports no relevant financial relationships with commercial entities.